A Flexible LCMS Front End for High-Throughput Bioanalytical Analysis in GLP Environment
From LEAP
Katty Wan, Julie Zhou, Maria Metchkarova, Jill Polzin and Matt Rieser; Abbott, Abbott Park, IL 60064

Presented at the 16th Symposium on Pharmaceutical and Bioanalytical Analysis (PBA 2005)
Introduction High throughput approaches for the quantitative analysis of drugs and related substances in complex biological matrices are critical to successful drug discovery and development programs. In an effort to capture efficiencies available through two existing technologies, a staggered parallel HPLC system was developed with LEAP autosampler (CTC HTS PAL) equipped with trio valves and four independent HPLC pumps. Parallel LC-MS analysis is achieved by offset dual stream analysis with a time delay to allow staggering of the MS acquisition times.

The system is configured to carry out either of the two analytical modes:

Paralleled LC-MS analysis with or without guard column regeneration
Paralleled on-line SPE followed by LC-MS analysis Timing and triggering for injections, analytical pumps, loading/ washing pumps and data collection are controlled by the Cycle Composer software that runs custom macros.

Switching between the two operational modes requires minimal re- plumbing. The system can also run either type of analysis in single stream mode. Two regulated clinical studies (conducted under GLP) were analyzed using the system and are presented as two examples. One study used the dual channel HPLC with guard column regeneration. The other used the dual channel on-line SPE.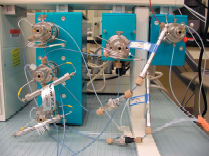 Download Poster

PBA 2005 - A Flexible LCMS Front End for High-Throughput Bioanalytical Analysis in GLP Environment

For other cost/time saving measures consider:
LEAP offers multiple choices of Valve Self Wash Stations to aid in cleaning the valve [1]
Summary of LC Multi Valve Applications [2]
LEAP Shell Software and application for custom injections and scheduling [3]
---

LEAP strives to find total solutions for analytical lab automation by automating analytical processes for small and large molecules in extracted liquids, solids, and recently in human, animal and plant tissues. We provide the precise robotics and efficient sample prep required by modern measurement techniques such as MALDITOF mass spectroscopy. Our newest specialty customization of CTC Analytics' PAL features small workstations that can perform complex liquid handling tasks including HPLC-Purification, SPE, filtration, weighing, heating and stirring. They can be configured as stand alone units or integrated for "just in time" sample prep for LC-MS or GC-MS analysis.
LEAP provides automated workstation instrumentation solutions based on the LEAP CTC PAL X, Y, Z syringe only autosampler robot from LEAP Technologies. This extremely flexible, precise, and adaptable liquid handling robotic platform is available in a variety of lengths and options depending on the requirements of your sample preparation and injections for your UHPLC, LC or GC chromatography.LEAP offers full support and service for the PAL platform in addition to being able to write custom macros, cycles, and scheduling to your applications. Please contact LEAP Technologies on how we can help you get maximized throughput with flexible pipetting automation solutions.
Contact LEAP

Contact LEAP
For additional information about LEAP and the PAL Platform, please contact LEAP Technologies.