Pooling of vial contents for QC testing
From LEAP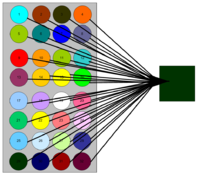 Pooling of individual samples can provide a robust and efficient way to perform some experiments. Pooling of samples can be an effective means to increase cost-effectiveness in routine surveillance and exposure assessment assays.
The long rail of the HTX PAL is used to mount 8 standard ambient tray holders. The system uses a side-port syringe and is designed to pierce the vial septa, go to the bottom of the 5 mL vial and wait while the in-house vacuum evacuates the contents to a flask which pools contents from all of sample vials for later testing. This application was used to batch-test vials filled with injection grade water. The task was previously performed manually.
The time that the instrument can stay in the aspirate position can be adjusted by the user to ensure complete recovery of the vial contents. In this case each 5 mL vial contains 0.85ml of sample and a minimum of 0.7ml needs to be extracted. Total capacity of 400 vials. Custom trayshave been drilled so that the vials are held at a 15 degree angle, allowing for maximum recovery from each vial. If more than 400 vials are needed for pooling, the customer will re-fill the tray holders with new racks at a prescribed time interval. The system can be reconfigured to handle other vials sizes.
Project Ref: H1115

Potential Benefits:
Cost Reduction
Collective Testing
By pooling samples you are obtaining information from a greater number of samples for much less cost.

Photos
Other Pooling Information on Web
Web Example of Pooling of Samples
For other cost/time saving measures consider:


Other Examples of Customers Solutions


Summary of LC Multi Valve Applications


LEAP Shell Software and application for custom injections and scheduling


Glossary


LEAP Wiki Main Page

---
Videos of PAL

LEAP's PAL Application Videos on YouTube


LEAP strives to find total solutions for analytical lab automation by automating analytical processes for small and large molecules in extracted liquids, solids, and recently in human, animal and plant tissues. We provide the precise robotics and efficient sample prep required by modern measurement techniques such as MALDITOF mass spectroscopy. Our newest specialty customization of CTC Analytics' PAL features small workstations that can perform complex liquid handling tasks including HPLC-Purification, SPE, filtration, weighing, heating and stirring. They can be configured as stand alone units or integrated for "just in time" sample prep for LC-MS or GC-MS analysis.
LEAP provides automated workstation instrumentation solutions based on the LEAP CTC PAL X, Y, Z syringe only autosampler robot from LEAP Technologies. This extremely flexible, precise, and adaptable liquid handling robotic platform is available in a variety of lengths and options depending on the requirements of your sample preparation and injections for your UHPLC, LC or GC chromatography.LEAP offers full support and service for the PAL platform in addition to being able to write custom macros, cycles, and scheduling to your applications. Please contact LEAP Technologies on how we can help you get maximized throughput with flexible pipetting automation solutions.
Contact LEAP

Contact LEAP
For additional information about LEAP and the PAL Platform, please contact LEAP Technologies.