Category:PAL
From LEAP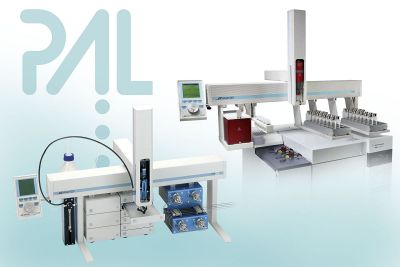 PAL (commonly referred to as LEAP and CTC) this is an X,Y,Z Robot with syringe only concept
These are some terms that are commonly associated with the PAL Robot:

Autosampler
Injector for LC or GC
Precise, adaptable liquid handling Front-End automation systems
Variety of lengths and options
Extremely flexible
Sample Injector
No tubing in the sample path minimizes sample loss from adsorption which facilitates higher detection sensitivity
Maximized throughput
Flexible automation
Full software control with various data system integrations and/ or LEAP Shell Software
Rugged
Reliable
Stand alone workstation
On board software control
Syringe only technology
The syringe only concept of the PAL combines the manual sample injection procedure with the precision and throughput of a robotic liquid handling system. Samples are aspirated with a conventional syringe and are transferred directly into the sample loop. No error prone Teflon tubing or transfer lines are involved during the sample loading process. The single syringe design allows even for the "cherry picking" of samples (random access of the wells).
CTC PAL's – Prep And Load Automation for all your LC and GC applications. LEAP has expertise automating sample injection into a GC port or LC injection valve.
Workstations are small footprint XYZ robots built on the flexible CTC PAL platform, that handle a variety of tasks. They can perform as liquid sample handlers that provide for accurate dilutions of liquid samples. Workstations can handle large volumes with the addition of diluters, large volume dispensing pumps and tools. They are also suitable to pull samples from liquid streams by using flow cells, flow vials and flow valves. To collect these samples into vials, add reagents, agitate, heat it or directly inject it into a detector system is simple for these XYZ workstations. Many accessories are available to customize workstations to specific needs.
CTC's PAL instrument design provides worry-free operation and low maintenance costs. An open architecture for easy access to the injection valves, sample trays and syringes, guarantees the quick exchange of sample loops, trays and different syringe sizes. All PAL liquid handling systems are equipped with Flash EEPROM technology, for problem-free update of every installed unit with the newest enhancements and capabilities.


HTC-xt


HTS-xt
More than just an autoinjector, the LEAP Prep and Load (PAL) system is a sample preparation system that can perform a variety of preparation steps while integrating seamlessly with your GC & GCMS, or LC & LCMS via hardware adaptations and software drivers. GC uses include headspace, direct injection, SPME, ITEX, derivatization, dilutions and much more. HPLC uses include dilutions, incubations, filtration, weighing, heating, cooling, timed sequences, MALDI spotting, SPE and much more. The sample capacity of the PAL systems exceed most auto-injectors on the market today offering greater walk-away capability and far more power to prepare your samples. The PAL is also capable of operating as a stand-alone workstation, offering countless automation possibilities for your lab....
Third Party Instrument Drivers
Drivers are available either through LEAP Technologies or the instrument vendor
Agilent ChemStation
Agilent EZChrom
Applied Biosystems Analyst
Bruker Daltonics Compass
Chronos Software
DataApex Clarity
Dionex Chromeleon
Justice Software
Chromperfect
LEAP Shell Software
Shimadzu LCMSsolution
Shimadzu LCSolution
Thermo Xcalibur
Varian Galaxie
Waters Masslynx
Waters Empower
The PAL System is an XYZ robotic system offering high flexibility and functionality. Its intended use can be described as being mainly as autosamplers or sample preparation devices for all relevant fields of application in chemical and physical analysis.
Typical fields of application for the PAL System are:
Environmental analysis
Quality control in the chemical and pharmaceutical industries
Drug discovery
Metabolism studies on agrochemicals or pharmaceutical products

The traditional market position of CTC Analytics AG has resulted in the PAL System being mainly used as an autosampler device for the techniques of GC (gas chromatography) and HPLC (high pressure liquid chromatography). Sample preparation steps, such as filtration, purification or separation by means of solid phase extraction (SPE), derivatization, etc., are possible in combination with chromatographic or other techniques. Other techniques or areas of application are also possible. XYZ robotic systems are typically used where vial (sample) transport, liquid handling or sample preparation need to be automated. Known fields of application include tablet dissolution and viscosimetry.

PAL's
COMBI PAL

DI PAL

HTC PAL

HTC-xt PAL

HTS PAL

HTS-xt PAL

HTX PAL

Twin PAL


Brochures

PAL System Brochure as a pdf download


GC PAL Autosampler Overview Tear Sheet as a pdf download


LC PAL Autosampler Overview Tear Sheet as a pdf download


COMBI PAL Brochure as a pdf download


More Info

More info on The PAL at LEAP company website

---
Videos on YouTube

All Videos of PAL Robot on YouTube

Movie of the COMBI PAL in action.

Movie of the COMBI PAL with SPME in action.

Movie of the COMBI PAL with Headspace in action.
---

Presentation of LEAP accessories for PAL on YouTube
---

Movie of the Collect PAL in action.

Movie of the Filter Press on PAL in action.

Movie of the DISPTool on PAL in action.

Twin HTX PAL in action.

IFC PAL in action.
Photos
---
Control of the PAL has been successfully integrated within each of the 4 major Mass Spec company's software packages. This has the significant advantage of incorporating the Sample List of the PAL into the sequence table of the Mass Spec. Thus avoiding having to enter data twice. Each integration package has been implemented in a slightly different way - more complete documentation for each is available from LEAP.
---
LEAP offers installation and familiarization training with every new system. The twelve month warranty includes unlimited telephone support and module exchange programs. Extended warranties include annual preventative maintenance in addition to telephone support and module exchange programs.
---
For customers that want to write their own custom macros and injection cycles, LEAP offers software training at our facility in Carrboro, NC.
---
---

LEAP Technologies provides fully automated sample processing workstation instrumentation solutions based on the LEAP CTC PAL X, Y, Z syringe only autosampler robot. This extremely flexible, precise, and adaptable liquid handling robotic platform is available in a variety of lengths and options depending on the requirements of your sample preparation and injections for your UHPLC, LC or GC chromatography. LEAP also offers process control systems and stand alone workstations. LEAP is an open, neutral resource for technical support of existing PAL. Keep your PAL in peak working order LEAP offers full support and service for the PAL platform with over 11 years of history with the PAL. LEAP can also write custom macros, cycles, and scheduling software for your specific applications. We're proud that LEAP is known as a productivity improver for laboratories including government labs in agencies such as FDA, USDA, EPA, FBI, Armed Forces, Homeland Security and others function more efficiently. Robotic sample prep equipment works well in government labs and challenges lab technicians to keep feeding those more samples. Analytical equipment such as chromatographs and mass spectrometers are expensive devices and also expensive to maintain. LEAP can help to keep them running and analyze samples around the clock. LEAP has most of its laboratory automation robots under GSAcontract and is eager to service and maintain everything it sells to keep your expensive lab equipment running around the clock. CTC Analytics Combi PAL and HTS PAL for Front-End Automation for LC and GC applications. LEAP offers customized on-site training. LEAP Is continuing to develop FAQ, Solutions, Tips & Techniques,a Learning Center with the LEAP Wiki for the benefit of all PAL Platform Robotic users. We will continue exceeding customer expectations for quality, cost effective and efficient results using the most current technology and expertise in our industry. Our aim is to be the ultimate knowledge base on everything related to the PAL. LEAP is known as the autosamplerguys being in business over twenty years. LEAP has extensive multi-vendor experience with integrating the PAL. HTX, HTS, HTC, HTX-xt, HTS-xt, HTC-xt, LC-Mini, Combi PAL,COMBI-xt PAL, and GC PAL models. We have the Quality, Training, Parts availability, Infrastructure, and Experience.LEAP is sometimes referred to as an Application Automation House who is continually adding new products and solutions to its Lab Automation line. As we do so we change the content of this web site so please check back.
Please contact LEAP Technologies on how we can help you get maximized throughput with flexible pipetting automation solutions whether it is our standard applications or customized to your needs. The Combi-xt PAL autosampler is able to perform liquid and headspace analysis. Headspace options include Solid Phase Micro-extraction (SPME) and ITEX-2 as alternative to purge and trap. The HTS-xt PAL autosampler dramatically increases sample throughput by offering automated sample prep, Peltier cooled and heated sample storage using the cooled stack, Peltier cooled and heated sample storage using the cooled stack and low carryover due to the self-cleaning DLW (Dynamic Load and Wash) module and L-Mark syringes, peltier cooled valves and columns. LEAP provides automation that fits your needs and reduces errors, increases sample capacity, increases efficiency, reduces cost by supplying long term productivity improvements with user friendly software and flexible hardware. LEAP performs just in time or on time sample prep and inject. LEAP offers full support of integrated and non-integrated PAL software with both sales and support for Cruise Control, Cycle Composer and Cycle Composer Macro Editor, Agilent ChemStation CTC Control, Mass Hunter and EZChrom CTC integration, Xcalibur, Waters Masslynx or Analyst CTC Control software, Thermo (Finnegan) XCalibur, LEAP Shell, and Chronos software. The PAL is more than just an autosampler, it is a high-quality and efficient laboratory robot platform that can be customized by LEAP Technologies to meet your specific needs.
Contact LEAP

Contact LEAP
For additional information about LEAP and the PAL Platform, please contact LEAP Technologies.

The information and references contained in this web site are believed to be accurate and the most current information available.
Subcategories
This category has the following 13 subcategories, out of 13 total.
Pages in category "PAL"
The following 4 pages are in this category, out of 4 total.
F
G
S
T