LEAP X-Press Filtration Station
From LEAP
Sample Filtration
Application Type
SPECIAL
Application ID
LEAP X-Press
Description
Sample Filtration with LEAP X-Press Individual Filter System

Overview
Whatman Mini-UniPrep™ Syringeless Filters offer a convenient way of filtering samples containing particulates prior to introduction on an HPLC system. It combines filtration and storage into one simple device that can be integrated with the PAL. They currently come with 2 pore sizes and many different filter media. They are designed for manual operation but are not conducive to large batch sizes - repeated pressing by hand being very fatiguing.
Mini UniPrep Syringeless Filters are specifically designed to remove particulates from smaller sample volumes. Mini-UniPrep consists of a 0.4 ml capacity chamber and a plunger. The plunger contains a filtration membrane at one end and a pre-attached cap/septum at the other. The plunger is pressed through the sample in the outer chamber and positive pressure forces the filtrate into the reservoir of the plunger. Air escapes through the vent hole until the locking ring is engaged providing an air-tight seal. (see Diagram)
LEAP has developed a "Press" accessory,LEAP X-Press, for the PAL which allows samples to be filtered reliably and repeatably. It does not require external pneumatics, but compress the filter chambers. Samples can be processes in batch mode or "just in time" before direct injection to the LC valve. The LEAP X-Press can be used for stand-alone operation with an optional foot.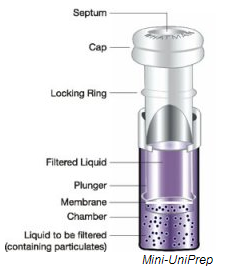 The PAL offers precise control of the down force on the sample. The user can specify the speed of compression in the method, allowing even very heavy suspensions to be filtered successfully.
The complete system can provide automated online filtration, including sample preparation, sample transport and injection into the chromatographic system.
Info on LEAP X-Press
Features and Benefits
Ease of use Filtering and storage vial allows you to process sample loads in one-third the time
Wide range of membranes Suits a variety of sample types
Available in 0.2 and 0.45 μm pore sizes to meet specific sample application requirements
Compatible with all major autosamplers Allows you to speed processes
Fewer consumables required Lowers Costs by up to 40 percent
Slit septa cap - Enables Mini-UniPrep use with current robotics on HPLC instruments for high throughput automation
Slit septa cap - Increases needle longevity Eliminates coring problems associated with repeated sampling
Slit septa cap - Durable yet flexible and has been specially designed for instruments with sensitive sampling needs
The self-sealing septa of the UniPrep allows for repeated injections: Prevents evaporation and maintains sample integrity. Whatman Mini-UniPrep Syringeless Filters offer a highly efficient, simple alternative for removing unwanted protein prior to HPLC/MS analysis. Ideal for performing analytical characterization in drug research, the method utilizes acetonitrile precipitation and filtration by compression to remove protein from plasma, serum, whole blood, and other biological fluids. It is a single tube method that saves time and eliminates the manual transfer steps which make spin clarification problematic.
Significant Markets
Any labs who are doing High Performance Liquid Chromatography (HPLC) or more significantly, Ultra High Performance Liquid Chromatography (UHPLC) analysis. It is imperative that particles are eliminated to avoid blockage of HPLC lines and columns. This filtering technique let you prepare samples in one third the time required by other methods. Automation of the filtering step has NOT been possible in a reliable fashion till now.
Filtration on a single disposable for a great variety of situations.
Samples can be filtered just before injection onto a UHPLC system.
Plant extracts and any solutions with particles
Possible Markets
Cosmetics
Food & Beverage
Pharmaceutical
Routine analysis
Composite assays
Content uniformity
Protein precipitation
Solubility testing
Dissolution testing
Sample filtration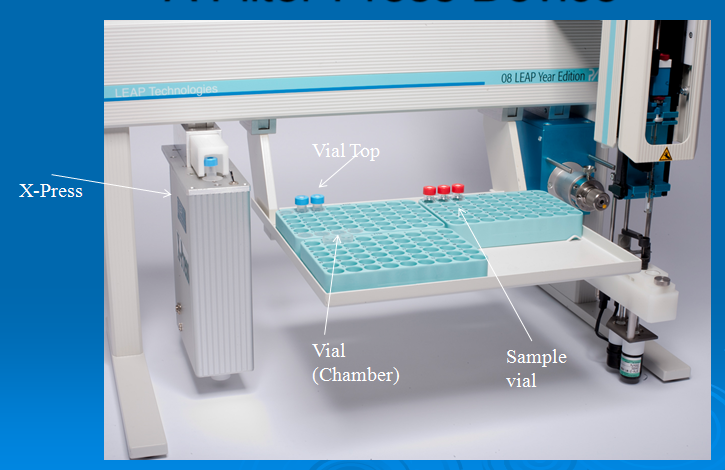 Filtration is in general, the removal of parts from a "raw" sample when passing through a filtration material.
Prevents blocking of capillaries, frits, and the column inlet
Results in less wear and tear on the critical moving parts of injection valves
Produces improved analytical results by removing potentially interfering contamination
Results in less downtime of the instrument for repairs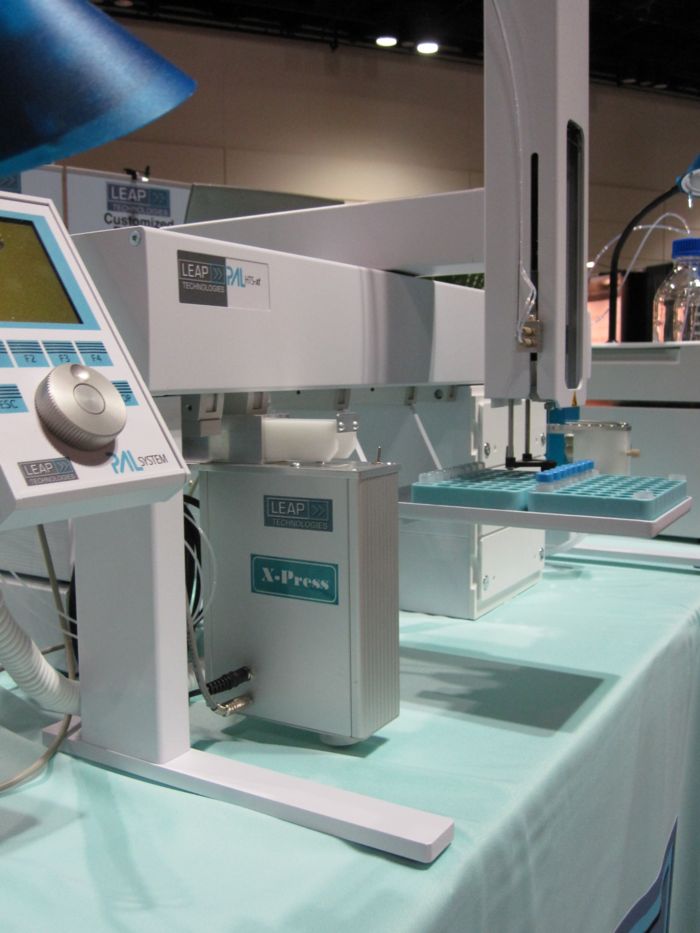 Photos
Print this page
More Info on Whatman Mini-UniPrep Syringeless Filters
Mini-UniPrep Syringeless Filters are manufactured by Whatman and are pre-assembled filtration devices for removing particulates from samples. They replace syringe filters, syringes,and autosampler vials/septa/caps with a single, disposable unit. Each Mini-UniPrep consists of two parts: a chamber and a plunger. The design incorporates a filtration membrane on one end of the plunger and a pre-attached cap/septum on the other.By pressing the plunger through liquid placed i the chamber, positive pressure forces the filtrate up into the reservoir of the plunger. Air escapes through the vent hole until the evaporation seal is engaged providing an airtight seal. The Mini-UniPrep can be used with the PAL and in any tray that takes the standard 12mm x 32 mm profile 2 mL vials. each Mini-UniPrep has a capacity of approximately 400 ul or 0.4mL. Whatman offers a Slit Septa Mini-UniPrep Syringeless Filter

Whatman Uniprep Website


Whatman UniprepSellSheet
Videos

Movie of the Press in action on YouTube


LEAP's PAL Application Videos on YouTube

Accessories for the PAL

Other Accessories for PAL Robots

Materials of Construction of Whatman UniPrep Vials

Housing and cap --> Polypropylene

Septa --> PTFE coated silicone rubber


Starting point for what filtering media material may work best:
General filtration media/Solvent based samples --> Polypropylene (PP)
Particulate laden liquids --> Glass Microfiber (GMF)
Aqueous/Organic samples in 3 to 10 pH range --> Nylon (NYL)
Chemically aggressive solutions --> Polytetrafluroethylene (PTFE)
Biological samples requiring low protein binding media --> Polyethersulfone (PES) or Regenerated Cellulose (RC)
Aqueous/Organic solvents – low non-specific protein binding media --> Polyvinylidenefluoride (PVDF)
Aqueous/Organic solvents – high flow and loading capacity --> Polypropylene Depth (dp PP)
---

LEAP provides automated workstation instrumentation solutions based on the LEAP CTC PAL X, Y, Z syringe only autosampler robot from LEAP Technologies. This extremely flexible, precise, and adaptable liquid handling robotic platform is available in a variety of lengths and options depending on the requirements of your sample preparation and injections for your UHPLC, LC or GC chromatography. LEAP offers full support and service for the PAL platform in addition to being able to write custom macros, cycles, and scheduling to your applications.Please contact LEAP Technologies on how we can help you get maximized throughput with flexible pipetting automation solutions.
Contact LEAP

Contact LEAP
For additional information about LEAP and the PAL Platform, please contact LEAP Technologies.
Keywords
Whatman Mini-Uniprep syringeless filters,eliminate syringe filter, Amber Housing (for Light Sensitive Samples),simple to use protection, single step filter vials, plunger filter, simultaneously filtering and readying sample, fast, compatible, debris blockage HPLC, All-in-one filtration process, pre-slit septa, Nylon, PES, PVDF ,RC,PTFE, PP,GMF, Nylon, PES , PVDF, Thomson , Equivalent in size to 12 x 32 mm vials,Thomson SINGLE StEP Filter Vials,PAL.XPRESS, PAL.XPTR54PLGR, PAL.XPTR54CHMBR,