ITEX-2
From LEAP
ITEX-2
Application Type
Standard Product
Application ID
Extend the headspace mode
Description
Accessory Showcase

---
ITEX-2 Option
The ITEX-2 Option consists of an add-on module which can be used with any existing or new CombiPAL robot. It performs enrichment of volatile or semi-volatile compounds during headspace analysis. A microtrap filled with adsorbent material, such as Tenax or activated charcoal is placed between the heated CombiPAL Headspace syringe and the syringe needle. No cryofocussing is needed to obtain sharp peaks. The ITEX-2 Option offers faster desorption, a complete deactivated sample path and a shortened syringe. Adding ITEX to your existing COMBI PAL autosampler is now as easy as switching from Liquid to Headspace Sampling. The ITEX-2 is an alternative to traditional purge and trap in many cases.
Rapid and efficient sample enrichment of volatile and semi-volatile compounds in solid, liquid and gaseous samples
In-tube extraction and direct thermal desorption using proven industry standard adsorbents (Tenax TA, Carbotrap, Carbosieve etc.)
Syringe only concept for transparent sample handling, no sample loops, transfer lines, or switching valves
Top mounted on GC's, saves valuable bench space
No GC injector modifications, no cryo-focussing necessary
Interfaces with any CombiPAL System, controlled by all major GC/GC-MS
Significant Markets
Environmental
Drinking Water
Foods / Flavors
Consumer Products
Forensics / Toxicology
Petrochemicals
Polymers
Pharmaceuticals
Residual Solvents
Steps of CombiPAL ITEX Cycle
1 Sample is heated and / or agitated in a sealed sample vial until equilibrium is achieved
2 The Trap needle pierces the vial septa and the syringe pumps the headspace through the Trap
3 The loaded ITEX Trap is flash heated up to 350°C and desorbed into the hot GC Injector
4 After thermal desorption the hot ITEX Trap is cleaned with inert flush gas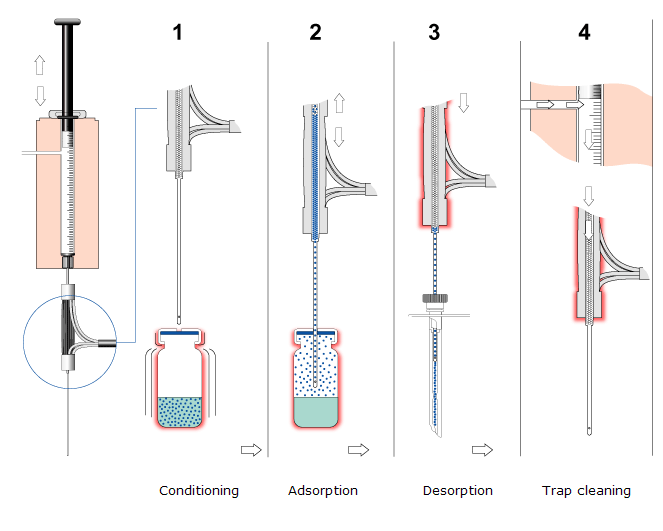 Extraction Trap: 44 mg adsorbent Tenax TA 80/100 mesh
Pumping syringe: 1.3ml HD syringe with removable trap
Extraction speed: 10µl/sec. - 1000µl/sec
Extraction strokes: 1 -999
Extraction volume: 130µl - 1300 µl per stroke
Desorption temp: +5°C above ambient – 350°C selectable in 1°C steps
Desorption time: 0 - 300 sec.
Desorption speed: 1µl/s - 500µl/s
Heating-up rate: up to 12°C/s
Trap cleaning: Inert gas purging, 30 - 600 sec.
Sample capacity: up to 297 2ml standard vials up to 96 10ml or 20ml vials optional Cooled Trayholders available
Incubator oven: 6 heated positions for 2ml/10ml/20ml vials
Incubation temp: 30°C – 200°C selectable in 1°C steps
Incubation time: up to 999 min.
Agitation: Interval shaking 250rpm – 750 rpm prior sample extraction

Photos
Additional Information
The PAL ITEX-2 Option is an add-on module to extend the range of headspace techniques. ITEX can be considered an automated dynamic headspace technique. In classical headspace technique one sampling is done per vial. In this device, analytes are adsorbed (loaded) on a sorbent trap contained within a side-hole needle attached to a gas-tight syringe. Following this loading procedure analytes are thermally desorbed and led directly into the GC injection port, then analyzed by the required technique, mainly using GC-MS detection.
Loading takes place by continuously moving the headspace syringe plunger up and down, passing the headspace gas phase that exists above a sample through the sorbent trap inside the needle numerous times.
Dynamic headspace extraction increases the concentration of analyte in order to extend the range of detection as compared to conventional static headspace techniques. Required levels of detection can be reached by applying more pumping (up and down) cycles. To reach the detection limit in the range of a ppm to ppb concentration, three to twenty strokes are typically applied and, for the ppt-level of concentration, 40 to 60 pumping strokes may be necessary.
The PAL ITEX-2 Option consists of a dedicated gas tight syringe with an adapter for a replaceable needle and a heated syringe cartridge. The side-hole needle includes an integrated trap (standard trap material is Tenax TA) and a trap/desorber heater
The only recommended application for the ITEX sample enrichment technique is from the gas phase, the headspace in the vial

Hardware Requirements
The PAL ITEX-2 option can be used with any PAL System equipped for static headspace technique, e.g. Combi PAL. The revision level of the PAL Injection Unit must be Rev. E or higher, slot at left side is required. Example: PNo.: MZ 02-00 Revision E.
Downloads

ITEX-2 Brochure


ITEX Application Binder
PRINT Function for Page

PDF of this page formatted for printing
Accessories for the PAL

Other Accessories for PAL Robots
Videos of PAL

LEAP's PAL Application Videos on YouTube
---

LEAP strives to find total solutions for analytical lab automation by automating analytical processes for small and large molecules in extracted liquids, solids, and recently in human, animal and plant tissues. We provide the precise robotics and efficient sample prep required by modern measurement techniques such as MALDITOF mass spectroscopy. Our newest specialty customization of CTC Analytics PAL features small workstations that can perform complex liquid handling tasks including HPLC-Purification, SPE, filtration, weighing, heating and stirring. They can be configured as stand alone units or integrated for "just in time" sample prep for LC-MS or GC-MS analysis.
LEAP provides automated workstation instrumentation solutions based on the LEAP CTC PAL X, Y, Z syringe only autosampler robot from LEAP Technologies. This extremely flexible, precise, and adaptable liquid handling robotic platform is available in a variety of lengths and options depending on the requirements of your sample preparation and injections for your UHPLC, LC or GC chromatography.LEAP offers full support and service for the PAL platform in addition to being able to write custom macros, cycles, and scheduling to your applications. Please contact LEAP Technologies on how we can help you get maximized throughput with flexible pipetting automation solutions. Check with your LEAP representative to find out if teh ITEX-2 is a suitable alternative to your purge and trap methods.
Contact LEAP

Contact LEAP
For additional information about LEAP and the PAL Platform, please contact LEAP Technologies.